Granville is the Group CEO of EQ World Pte Ltd, a consulting and training practice specializing in organizational behavior and performance. The group designs and facilitates corporate and adult workshops that focus on enhancing performance at all levels, dealing with change, forging powerful partnerships in organizations and building individual resilience and team resilience. In addition, he does developmental coaching that deals with deeper emotional issues caused from past programming. These include trauma, loss of motivation, anger and mild depression, phobias and acute fear. His initiatives are frequently used to boost performance of staff at all levels and for teams to approach obstacles objectively with a view to enhancing performance.
Granville has for the last 24 years, been helping employees in organizations to approach their strengths and weaknesses through coaching and facilitative workshops that deal with team and individual behavior. He has been actively promoting Emotional Intelligence practices as well as teaching such skills in organizations where he employs tools and therapies to help employees cope with emotional issues. He also uses various instruments like DISC, Harrison Innerview, Enneagram, MBTI, SEI and Baron's EQ-i in his coaching practice to help participants understand innate behaviors and those within their influence to take action. His present programs include Leadership, Performance Coaching, Energy Psychology', Emotional Intelligence, Personality and behaviour Profiling, Coaching With EFT (Emotional Freedom technique) and various strategies related to performance. He frequently uses techniques on Psycho Cybernetics to build self image and belief in others through his 3 month coaching system thus ensuring permanent results.
His area of interest centers on the core issues of behavior and personality where he fosters a greater understanding before helping others to take action. His unique approach to coaching is through a personalized process of using EFT, NLP, Psych-K, hypnosis, personality/behavior profiling and various other sources of therapy to assist clients in removing blocks, baggage and emotional issues.
His programs have benefited a range of clients from MNCs, government agencies, local and regional corporations. This includes AMEX, Carl Zeiss, DHL, Tan Tock Seng Hospital, Parkway Medical Group, Gleneagles Hospital, Chartered Semiconductors, ASM Technologies, AIA KL, DBS Bank, Great Eastern, HSBC, Hilton and Conrad Hotels, KLM, Minolta, Hewlett Packard, IBM, Lucent Technologies, Morgan Stanley, Nokia Singapore & Japan, NUS, Ngee Ann Polytechnic, NOKIA, Oracle, OCBC, Perkin Elmer, RHB Bank, Seagate, Singtel, Singpost, Singapore Turf Club, Starhub, SIA, SPH, Shell, Wynn Casino, among others.
Granville is accredited with:
He has authored numerous articles for a variety of HR magazines, is the co-creator of the EQ Coach cards, EQ Activity Set, Decision Deck, EQ Advice Cards, written 3 books entitled EQ From the Inside Out, Unshakeable Spirit and Emotional Intelligence for High Performance. Granville has a Bachelor of Arts, an MBA and a Doctorate in Business Administration with the University Of South Australia where he researched on Emotional Intelligence.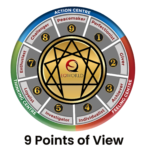 Centre for Enneagram is powered by EQ World Pte Ltd, a consulting and training practice specialising in organisational behaviour and performance.