Marion Nicole Teo is the Group COO at EQ World and is a Certified Master Trainer, Facilitator and Coach in both EQ and the Enneagram. Marion has attained the full Advanced Certification in Training & Assessment (ACTA) and is also a well-known Image Building and Customer Service Consultant. 
Marion has over 30 years experience working in diverse industries, including financial institutes, government agencies, universities and retailers. Her domain expertise is in image enhancement, etiquette and protocol, personal effectiveness, service quality and standards implementation. In 1998, she developed the proprietory "Achieving A Leading Image" training series, which she personally delivers. The training has a local brand of theory to infuse the Singapore culture, business situations and attitudes. It also focuses on handling people from different countries and cultures.
She has trained people from diverse industries. These include clients like Zimmer Biomet, CIMB Bank Berhad, UOB Limited DBS Bank, Great Eastern Life Assurance Co Ltd, Ministry of Foreign Affairs, RSM Chio Lim Stone Forest, National University of Singapore, Housing Development Board, Supreme Court, Ministry of Community, Youth and Sports, Prudential Assurance Singapore (Pte) Ltd, Health Sciences Authority, DSO Laboratories, Hansgrohe Pte Ltd, Exploit Technologies Pte Ltd, McDonald's Restaurants Pte Ltd, National Library of Singapore, Singapore Immigration, Singapore Airlines, Singapore Prisons Officers, Singapore Retailers Association, Singapore Tourism Board, Tourism Management Institute of Singapore and others. She also trains students from the National University of Singapore, Singapore Management University, Nanyang Technological University and Singapore University of Technology and Design. Marion has also provided follow up services in the areas of developing and implementing standards for some clients.
Previously from the Service Quality (SQ) Centre, Marion headed the customer services department. She was instrumental in the end-to-end design and delivery of a highly successful seminar titled "Managing a Winning Image for Service". In addition, she was tasked with the overall improvement of the centre's grooming curriculum and worked on several consulting projects.
She has coached executives and leaders to put their best foot forward, to lead by example by practicing EQ and make better decisions on a day to day basis. Through her training and coaching, Marion aims to create more self-awareness in her participants, develop their resilience and confidence, and give them a decisive edge in their personal development to achieve personal success and happiness.
Marion holds an Honours degree in Biochemistry from the National University of Singapore. She was Miss Singapore Universe in 1987 and represented the nation in the Miss Universe pageant where she did Singapore proud as one of the semi-finalists. Marion has authored a self-help book entitled "Happy Once Again: Beauty from Inside Out" where she shares her own struggles as a single mother, her bout with depression, and how she overcame them. She has been featured in various newspapers, magazines, television and radio shows and has been a keynote speaker at different events. She is also the co-creator of the EQ Competency Framework and profile, as well as the EQ Activity Cards, EQ Advice Cards and the Decision Deck. Marion is also an active Rotarian where she spends her free time helping the less fortunate locally as well as overseas.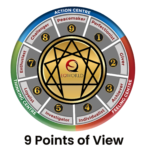 Centre for Enneagram is powered by EQ World Pte Ltd, a consulting and training practice specialising in organisational behaviour and performance.